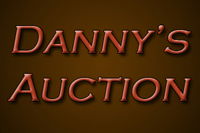 Weekly Auctions of Exceptional Items
Upcoming Auctions
News
Reviews
Past Auctions
Record Results
Upcoming Auctions from Danny's Auction
Bidder Reviews for Danny's Auction (48)
8 Latest ReviewsSee All
James
Thomasville, Pennsylvania
Nice to Deal With.
If I had to say anything critical about Danny's it would be their photo's could be better. Some were very hard to see the condition of the prints.
Pamela
Chippewa Falls, Wisconsin
Very helpful and friend friendly
Went in for Preview, they were friendly, answered our questions. We did a pick up which was easy and were in and out in a matter of minutes.
Hugh
Eau Claire, Wisconsin
Real Auctions no games!
Easy to work with. Very helpful with the pickup and shipping process!
Melvin
Glen Cove, New York