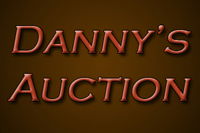 Weekly Auctions of Exceptional Items
Upcoming Auctions
Reviews
Past Auctions
Record Results
Upcoming Auctions from Danny's Auction
Bidder Reviews for Danny's Auction (30)
8 Latest ReviewsSee All
Connette
Cambridge, Minnesota
Very well packed!
Very well packed. Each light bulb was individually bubble wrapped
Kim
Cottage Grove, Minnesota
COULD NOT HAVE BEEN MORE PROFESSIONAL IN ENTIRE PROCESS
JUST A GREAT TRANSACTION FROM START TO FINISH
Chris
Pittsburgh, Pennsylvania
Great packing and shipping from UPS # 2820
Delicate glass shade was packed expertly and arrived in perfect condition. Jon at # 2820 should give lessons to other packers.