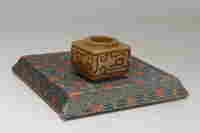 A Chinese Vividly-detailed Happy-buddha Fortune Figure
Related Sculptures & Carvings
More Items in Chinese Sculptures & Carvings
View More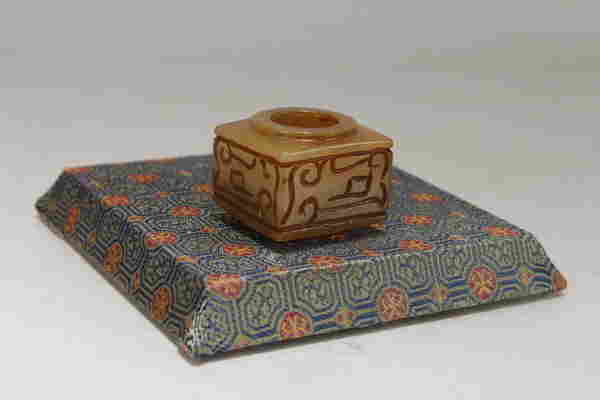 Item Details
Description
A Chinese Vividly-detailed Happy-buddha Fortune Figure . Height: 1 (inch).
Condition
Please Advise: Abo Gallery offers description and condition report with the sole purpose of behaving and executing as a third-party selling platform. Therefore, the bidders and Abo Gallery should understand there's no liability for potential error or misleading information. Any statement or fact in the description and condition report is written and presented as an sole opinion from the auctioneer and auction house. Re-delivering missing or un-mentioned condition fact of any auction-lot is not mandatory for Abo Gallery to inform bidder in any form of communication and does not guarantee the item itself it's in perfect condition or condition as descriptive.Along with description, Abo Gallery Staffs apologize for the actual item condition and information that can't deliver with our online pictures, including actual detailed appearance, material, age, tactile impression, and color differential. We'll do our best to maintain the item condition for shipping with professional packaging. If there's a concern of a lot regarding to picture quality, please contact our Staff All property offered and sold through Abo Gallery shall be offered and sold on the terms and conditions set forth below. By bidding at the auction, whether present in person or by agent, by absentee bid, telephone, internet or other means, the buyer agrees to be bound by these terms and conditions. 1. ALL SALES ARE FINAL. ALL PROPERTIES SOLD AS IS. NO RETURNS. NO EXCEPTIONS. 2. An 20% buyer's premium will be added to the hammer price of each lot for floor and phone bidders, a 30% buyer's premium for LiveAuctioneers.com. 3. All purchases (including buyer's premium) will be subjected to California's prevailing tax unless the buyer is on out-of-state resident and lots are being shipped out of California, or if the purchaser has a valid Tax Exempt Certificate (an actual resale certificate must be presented and on file with Abo Gallery). 4.All properties are sold as is, and all sales are final. Though all description and commentary are believed to be correct, neither the auctioneer nor the consignor makes any warranties or representations of any kind with respect to merchandise. Buyer shall not rely on the auctioneer, employees, the catalog description, or advertisements in any part, and must rely only on his own inspection and opinions of all items: we offer a preview and high resolution photos for potential buyers to review and make their own conclusions about the piece. No employee is authorized to make any warranties, expressed or implied, on behalf of Abo Gallery. NO GUARANTEE OF PROVANCE: Abo Gallery is not responsible for the research and provenance of each item. Abo Gallery is not responsible for authenticity, genuineness of, estimated selling price of, or defect in any lot, and make no warranty in connection therewith. No allowance will be made or sale set aside on account of any incorrectness, error in cataloging or any imperfection not noted. No deduction will be allowed on damaged articles as all goods being exposed for public exhibition are sold "as is" and without recourse. NO GUARANTEE OF AUTHENTICITY FOR JADE: Abo Gallery does not guarantee the authenticity of the color or age of any jade. All jade will be sold as it, without any warranties. All sales are final in jade purchase, no returns will be accepted. Judgment of such qualities is at the sole discretion of the buyer. NO GUARANTEE OF AUTHENTICITY FOR CHINESE PAINTINGS: Abo Gallery does not guarantee any of the lot number descriptions concerning Chinese paintings including authentication, originator, and the date of execution. NO GUARANTEE OF AUTHENTICITY FOR CHINESE STAMPS, COINS, AND/OR PAPER CURRENCY: Abo Gallery does not guarantee any of the lot numbers description, illustrations, and conditions are provided as reference. All items sold as, no returns. 5.All bidders shall obtain a biding number tag/pad at least 30 minutes before the start of the auction by presenting his/her ID or valid passport. All bidders shall keep the number tag/pad under his/her safe custody. The tag/pad shall not be lent to any other person(s). Otherwise, he/she shall bear all the responsibilities associated with the use of his/her number tag/pad for bidding or any other use
A Chinese Vividly-detailed Happy-buddha Fortune Figure
Get pre-approved to bid live.
Shipping, Payment & Auction Policies
Ships from Pasadena, CA, United States
Accepts seamless payments through LiveAuctioneers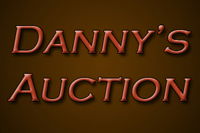 www.liveauctioneers.com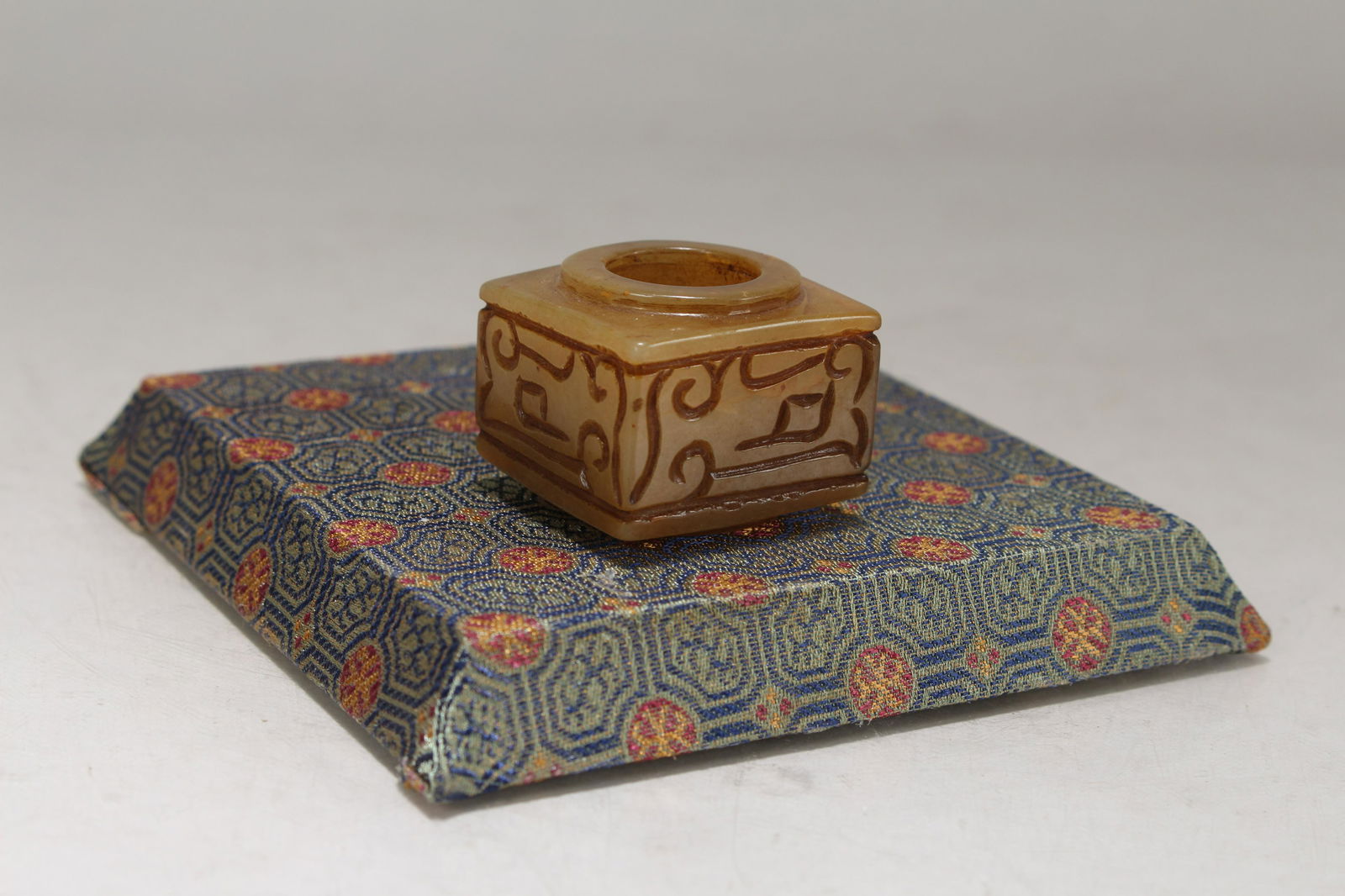 0586: A Chinese Vividly-detailed Happy-buddha Fortune Figure
Est.

$50

-

$75
•
Starting Price

$20
October Chinese Fine Works of Art
Oct 21, 2022 7:00 PM EDT
Buyer's Premium 28%
Description
A Chinese Vividly-detailed Happy-buddha Fortune Figure . Height: 1 (inch).
Condition
Please Advise: Abo Gallery offers description and condition report with the sole purpose of behaving and executing as a third-party selling platform. Therefore, the bidders and Abo Gallery should understand there's no liability for potential error or misleading information. Any statement or fact in the description and condition report is written and presented as an sole opinion from the auctioneer and auction house. Re-delivering missing or un-mentioned condition fact of any auction-lot is not mandatory for Abo Gallery to inform bidder in any form of communication and does not guarantee the item itself it's in perfect condition or condition as descriptive.Along with description, Abo Gallery Staffs apologize for the actual item condition and information that can't deliver with our online pictures, including actual detailed appearance, material, age, tactile impression, and color differential. We'll do our best to maintain the item condition for shipping with professional packaging. If there's a concern of a lot regarding to picture quality, please contact our Staff All property offered and sold through Abo Gallery shall be offered and sold on the terms and conditions set forth below. By bidding at the auction, whether present in person or by agent, by absentee bid, telephone, internet or other means, the buyer agrees to be bound by these terms and conditions. 1. ALL SALES ARE FINAL. ALL PROPERTIES SOLD AS IS. NO RETURNS. NO EXCEPTIONS. 2. An 20% buyer's premium will be added to the hammer price of each lot for floor and phone bidders, a 30% buyer's premium for LiveAuctioneers.com. 3. All purchases (including buyer's premium) will be subjected to California's prevailing tax unless the buyer is on out-of-state resident and lots are being shipped out of California, or if the purchaser has a valid Tax Exempt Certificate (an actual resale certificate must be presented and on file with Abo Gallery). 4.All properties are sold as is, and all sales are final. Though all description and commentary are believed to be correct, neither the auctioneer nor the consignor makes any warranties or representations of any kind with respect to merchandise. Buyer shall not rely on the auctioneer, employees, the catalog description, or advertisements in any part, and must rely only on his own inspection and opinions of all items: we offer a preview and high resolution photos for potential buyers to review and make their own conclusions about the piece. No employee is authorized to make any warranties, expressed or implied, on behalf of Abo Gallery. NO GUARANTEE OF PROVANCE: Abo Gallery is not responsible for the research and provenance of each item. Abo Gallery is not responsible for authenticity, genuineness of, estimated selling price of, or defect in any lot, and make no warranty in connection therewith. No allowance will be made or sale set aside on account of any incorrectness, error in cataloging or any imperfection not noted. No deduction will be allowed on damaged articles as all goods being exposed for public exhibition are sold "as is" and without recourse. NO GUARANTEE OF AUTHENTICITY FOR JADE: Abo Gallery does not guarantee the authenticity of the color or age of any jade. All jade will be sold as it, without any warranties. All sales are final in jade purchase, no returns will be accepted. Judgment of such qualities is at the sole discretion of the buyer. NO GUARANTEE OF AUTHENTICITY FOR CHINESE PAINTINGS: Abo Gallery does not guarantee any of the lot number descriptions concerning Chinese paintings including authentication, originator, and the date of execution. NO GUARANTEE OF AUTHENTICITY FOR CHINESE STAMPS, COINS, AND/OR PAPER CURRENCY: Abo Gallery does not guarantee any of the lot numbers description, illustrations, and conditions are provided as reference. All items sold as, no returns. 5.All bidders shall obtain a biding number tag/pad at least 30 minutes before the start of the auction by presenting his/her ID or valid passport. All bidders shall keep the number tag/pad under his/her safe custody. The tag/pad shall not be lent to any other person(s). Otherwise, he/she shall bear all the responsibilities associated with the use of his/her number tag/pad for bidding or any other use
Abo Antiques and Gallery
(626) 399-9834
LiveAuctioneers Support
info@liveauctioneers.com