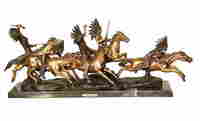 Bronze Native American War Party on Marble Base
Related Militaria & War Memorabilia
More Items in Militaria & War Memorabilia
View More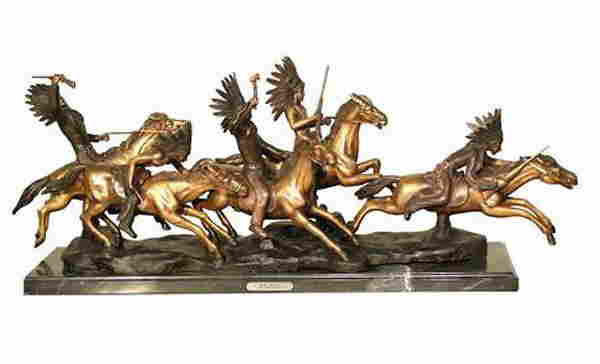 Item Details
Description
[removed]
[removed]
Bronze Native American War Party on Marble Base
[removed]
42L X 14D X 16H
[removed]
The War Party features four Native Americans with horses galloping and guns held high as they race towards battle. Beautiful bronze construction and an ebony marble base adore this sculpture which you are sure to love.
[removed]
10446452
[removed]
This item will ship via truckline to the local freight terminal in your area for pick up. The cost for shipping (which includes professional packing on pallet, full insurance on the item, and freight) is $120. Residential Delivery Options are available at an additional cost. Please contact us at 407-581-1313 if you require additional services. Please Note: We ship to the Continental United States Only.
[removed]
Live Auctions work a little different than normal eBay auctions. We will try and explain it so you can have an easy time of getting a chance to bid on the items you are interested in.
Absentee Bidding
(Prior To Auction Start)
You can place absentee bids up to 1 hour prior to the auction start time in the same fashion you would normally bid on eBay items. For live auctions, you do need to register for our sale via eBays system (just click the Place Absentee Bid link to register) however the process is quick and automatic. After you have registered you can bid on any of the lots in our catalog. We recommend absentee bidding as life is unpredictable and placing an absentee bid, even for the list price, allows you the opportunity to place a minimum bid on an item, as well as the opportunity to up your bid during the live auction event on Tuesday if you choose.
Bidding After The Live Auction Has Started on Tuesday
(After 10:AM EST)
If you find one of our items after the absentee bidding period has ended online you can still bid on the item. With eBay Live Auctions you can bid on an item Live as the sale is going on. You do this by visiting eBay's sister site
www.eBayLiveAuctions.com
and clicking on "Bid Now" next to our Auction Event on their homepage. This will open the Live Auction applet on your computer so you can join the sale and bid on the items you are interested in.
Request Bidding On Live Auction
Request Bidding on our Live Auctions is a very popular service for those bidders with busy schedules who cannot sit and watch the auction throughout the day. It is the Express Lane to getting an item you are interested in brought up for offering so you can place a bid quickly on the items you want and then go about your day. You can request any lot at any time during the Live Auction on Tuesday by calling our auction hotline at 407-802-8179.
[removed]
The World of Décor Auction Event presents unique & exotic furniture, accessories, and treasure from marketplaces throughout the world. We offer these items to you at prices way below retail as an opportunity to see the quality and craftmanship in each piece. With 5 retail stores throughout the United States and a travelling Live Auction Extravaganza, World of Decor is changing the way America shops for home decor. If you have any questions on an item, feel free to contact us at 407-802-8179. Have a great day and thanks for stopping by.
[removed]
[removed]
Bronze Native American War Party on Marble Base
Get pre-approved to bid live.
Shipping, Payment & Auction Policies
Ships from Orlando, FL, United States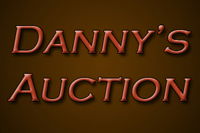 www.liveauctioneers.com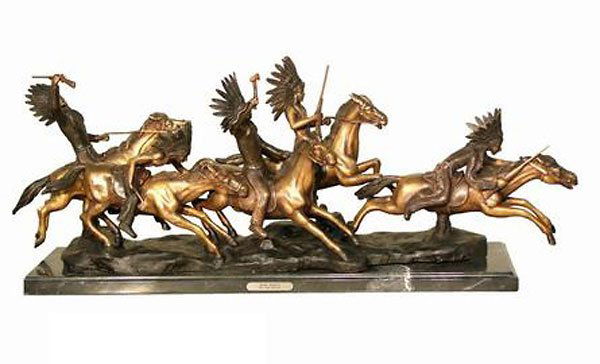 10145: Bronze Native American War Party on Marble Base
Est.

$1,198

-

$1,498
•
Starting Price

$600
** Cyber Monday Auction Spectacular **
Dec 03, 2007 9:00 AM EST
Buyer's Premium 15%
Lot 10145 Details
Description

[removed]

[removed]
Bronze Native American War Party on Marble Base

[removed]
42L X 14D X 16H

[removed]
The War Party features four Native Americans with horses galloping and guns held high as they race towards battle. Beautiful bronze construction and an ebony marble base adore this sculpture which you are sure to love.

[removed]
10446452

[removed]
This item will ship via truckline to the local freight terminal in your area for pick up. The cost for shipping (which includes professional packing on pallet, full insurance on the item, and freight) is $120. Residential Delivery Options are available at an additional cost. Please contact us at 407-581-1313 if you require additional services. Please Note: We ship to the Continental United States Only.

[removed]
Live Auctions work a little different than normal eBay auctions. We will try and explain it so you can have an easy time of getting a chance to bid on the items you are interested in.

Absentee Bidding (Prior To Auction Start)
You can place absentee bids up to 1 hour prior to the auction start time in the same fashion you would normally bid on eBay items. For live auctions, you do need to register for our sale via eBays system (just click the Place Absentee Bid link to register) however the process is quick and automatic. After you have registered you can bid on any of the lots in our catalog. We recommend absentee bidding as life is unpredictable and placing an absentee bid, even for the list price, allows you the opportunity to place a minimum bid on an item, as well as the opportunity to up your bid during the live auction event on Tuesday if you choose.

Bidding After The Live Auction Has Started on Tuesday (After 10:AM EST)
If you find one of our items after the absentee bidding period has ended online you can still bid on the item. With eBay Live Auctions you can bid on an item Live as the sale is going on. You do this by visiting eBay's sister site www.eBayLiveAuctions.com and clicking on "Bid Now" next to our Auction Event on their homepage. This will open the Live Auction applet on your computer so you can join the sale and bid on the items you are interested in.

Request Bidding On Live Auction
Request Bidding on our Live Auctions is a very popular service for those bidders with busy schedules who cannot sit and watch the auction throughout the day. It is the Express Lane to getting an item you are interested in brought up for offering so you can place a bid quickly on the items you want and then go about your day. You can request any lot at any time during the Live Auction on Tuesday by calling our auction hotline at 407-802-8179.

[removed]
The World of Décor Auction Event presents unique & exotic furniture, accessories, and treasure from marketplaces throughout the world. We offer these items to you at prices way below retail as an opportunity to see the quality and craftmanship in each piece. With 5 retail stores throughout the United States and a travelling Live Auction Extravaganza, World of Decor is changing the way America shops for home decor. If you have any questions on an item, feel free to contact us at 407-802-8179. Have a great day and thanks for stopping by.

[removed]
[removed]


Contacts
World of Decor / Motorbilia Auctions
407-581-1313
11525 Satellite Boulevard
LiveAuctioneers Support
info@liveauctioneers.com